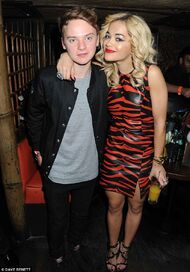 Conor Paul Maynard (born 21 November 1992) is an English singer from Brighton who is currently signed to EMI subdisidiary, Parlophone.Maynard rose to success in 2012 when he was nominated for,and subseqently won,MTV's Brand New for 2012 award.His debut single,"Cant't Say No",was released in the United Kingdom on 16 April 2012.
Discography
Albums
Singles
Can't Say No (2012)
Vegas Girl (2012)
Turn Around (featuring Ne-Yo) (2012)
Animal (2012)
Songs featuring Rita Ora
Ad blocker interference detected!
Wikia is a free-to-use site that makes money from advertising. We have a modified experience for viewers using ad blockers

Wikia is not accessible if you've made further modifications. Remove the custom ad blocker rule(s) and the page will load as expected.