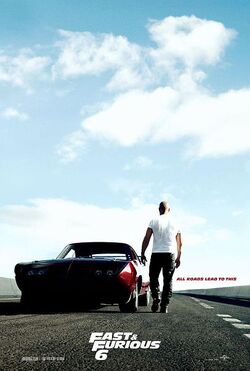 Fast & Furious 6
(alternatively known as
Fast Six
) is an upcoming action film written by Chris Morgan and directed by Justin Lin. It is the sixth installment in the Fast and the Furious film series. Vin Diesel, Paul Walker, Dwayne Johnson, Michelle Rodriguez and Jordana Brewster will star.
Fast & Furious 6 was in development by February 2010 as the first film in the series to move away from the underground car-racing theme of the series' previous films which was considered to have placed a barrier on audience numbers. Pre-production had begun by April 2011, and principal photography began in London, England in July 2012. Filming locations also include the Canary Islands, Scotland, and Los Angeles. The film is scheduled for release on May 24, 2013.
Vin Diesel as Dominic Toretto: A professional criminal, street racer and fugitive.
Paul Walker as Brian O'Conner: A former FBI agent turned criminal. He is in a relationship with Mia Toretto.
Michelle Rodriguez as Letty Ortiz: Dominic's former girlfriend who was believed to be dead.
Jordana Brewster as Mia Toretto: Dominic's sister and the girlfriend of Brian O'Conner.
Dwayne Johnson as Luke Hobbs: A Diplomatic Security Service agent.
Tyrese Gibson as Roman Pearce: Brian's childhood friend.
Chris Bridges as Tej Parker: Brian's and Roman's friend.
Sung Kang as Han Seoul-Oh.A street racer, and member of Dominic's crew.
Gal Gadot as Gisele Yashar.
Joe Taslim as Jah: A cold blooded killer who fights using martial arts and parkour.
Clara Paget as Vegh: The character is described as a gun-slinging action woman.
Elsa Pataky as Elena Neves.
Luke Evans as Owen Shaw: A former special ops soldier now leading a heist gang.
Gina Carano portrays a member of Hobbs' team.
Rita Ora in an unspecified role
Ad blocker interference detected!
Wikia is a free-to-use site that makes money from advertising. We have a modified experience for viewers using ad blockers

Wikia is not accessible if you've made further modifications. Remove the custom ad blocker rule(s) and the page will load as expected.