Ora
Released
27 August 2012 (UK)
Recorded
2009-2012
Length
42:48
Label
Producer
Stargate
Ora is the debut studio album by British recording artist Rita Ora, released on 27 August 2012 in the UK through Roc Nation. The album was recorded from 2009 through to 2012. Ora enlisted a variety of producers such as will.i.am, Ester Dean, Drake, The-Dream, Kanye West and Stargate. Samples of the album's standard edition was made available on iTunes UK store on 9 August.
R.I.P. (featuring Tinie Tempah)
Love and War (featuring J.Cole)
Uneasy
Fall in Love (featuring will.i.am)
Been Lying
Hello,Hi,Goodbye
Crazy Girl (Deluxe Edition)
Young, Single & Sexy (Deluxe Edition)
Meet Ya (Deluxe Edition)
The cover for "Ora" is Rita with her hand on her eye.
Deluxe edition cover
Edit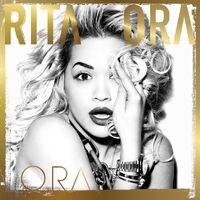 The cover for the deluxe edition is the same as the original,but the deluxe is yellow.
"Ora" means "Time" in Albanian.
Ad blocker interference detected!
Wikia is a free-to-use site that makes money from advertising. We have a modified experience for viewers using ad blockers

Wikia is not accessible if you've made further modifications. Remove the custom ad blocker rule(s) and the page will load as expected.