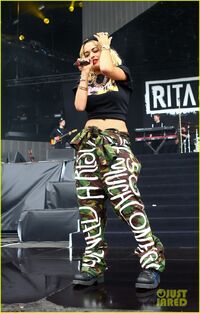 The Wireless Festivalis a music festival in England that takes place every year in Hyde Park, London, and took place at Harewood House, Leeds in 2006 and 2007. It is owned and managed by Live Nation. From its inception in 2005 until 2008, the festival was sponsored by telecommunications company O2, and was called the O2 Wireless Festival. Since 2009 the main sponsor has been Barclaycard and the festival renamed to Barclaycard Wireless Festival.
Rita appeared in the Wireless Festival at 2012.
Ad blocker interference detected!
Wikia is a free-to-use site that makes money from advertising. We have a modified experience for viewers using ad blockers

Wikia is not accessible if you've made further modifications. Remove the custom ad blocker rule(s) and the page will load as expected.